Buy or Lease a New Volkswagen Golf Near New Orleans
Over the years, Volkswagen has gained and maintained a reputation for producing compact and reliable automobiles that appeal to a broad segment of vehicle lovers and buyers. Their vehicles can run for ages, and people look at buying a Volkswagen as a long-term investment.
The Volkswagen Golf is no exception to this rule. It is sleek, sporty, and efficient. It comes equipped with a powerful turbocharged engine that is efficient and capable. The Golf is an excellent hatchback, and it is also available in the Westwego area with a station wagon variant.
Trims and Trim Levels
The Volkswagen Golf is available in a wide variety of trims and body configurations. These include:
Volkswagen Golf
 
Volkswagen Golf GTI
 
Volkswagen Golf R
 
Volkswagen Golf Alltrack
The base Golf is a formidable hatchback by any measure. It is well equipped, and it easily outperforms most vehicles in the hatchback segment. The Golf GTI and the Golf R, are upgrades on the base Golf. They feature a larger engine, more safety, and convenience features and a lot of additional performance features.
The Golf GTI is tuned for performance. It boasts a 2.0-liter turbocharged engine that is robust and responsive. On the inside, the GTI sports a unique styling. It also boasts an exciting range of powertrain options, a limited-slip differential, and a track-tuned suspension. All these features come together to give the Golf GTI entertaining handling and stunning performance.
The VW Golf SportWagen and the VW Golf Alltrack are built as spacious station wagons. The VW Golf Alltrack is available in three sub-trims: S, SE, and SEL.
The VW Golf Alltrack features several standard features such as standard all-wheel drive, hill descent control, and roof rails. It also boasts a broader range of additional features that are designed to make the outdoor experience more enjoyable.
Performance
The base VW Golf comes powered by a 1.4liter turbocharged four-cylinder engine that produces 147 horsepower and 184 pound-feet of torque. The standard transmission is a six-speed manual transmission, but an eight-speed automatic Tiptronic transmission is available.
The base Golf is quite quick off the mark, too; it accelerates from 0 to 60 MPH in just 7.7 seconds. It also boasts an impressive fuel economy rating. The VW Golf earns an EPA fuel economy rating of 28 MPG city, 36 MPG highway, and 31 MPG combined. This rating sets the Volkswagen Golf way ahead of any other vehicle in the class.
The VW Golf GTI comes powered by a 2.0-liter turbocharged four-cylinder engine that produces 241 horsepower and 258 pound-feet of torque. This immense power and torque are delivered to the front wheels via a six-speed manual transmission. A seven-speed automatic dual-clutch transmission is also available.
The Golf GTI features several selectable drive modes that vary the GTI's suspension and powertrain systems. These modes give the driver control over how the Golf GTI responds on the road. The Golf GTI is also quite fuel-efficient. It earns an EPA-rated fuel economy rating of 24 MPG city and 32 MPG highway. /
The VW Golf R comes fitted with a 2.0-liter turbocharged four-cylinder engine that produces an astonishing 288 horsepower and 280 pound-feet of torque. The VW Golf R is agile and powerful, sprinting from 0 to 60 in under 5 seconds. It features a firm suspension system that is paired to standard active dampers to increase comfort and stability.
The VW Golf Alltrack comes powered by a sporty 168-horsepower 1.8-liter turbocharged four-cylinder engine. The standard transmission is the 6-speed manual transmission, which is very popular among the purists. An automatic transmission is available on all trims.
All-wheel drive is standard on the VW Golf Alltrack. The Golf Alltrack is designed to provide maximum stability and traction in the harshest conditions. The all-wheel-drive system adapts magnificently to road conditions by sending torque to the rear wheels when needed.
Design
The Volkswagen Golf is designed to be sporty and stylish. However, it manages to maintain its iconic look. The base Golf features elegant 16-inch alloy wheels, a slim front grille, and LED daytime running lights. A panoramic sunroof that slides and tilts is also available. LED taillights are also standard. The Golf GTI features stylish 18-inch alloy wheels, LED headlights with an adaptive front lighting system, and the distinctive GTI nameplate.
The VW Golf Alltrack is built like a station wagon. However, it boasts the same features as the Golf, but it looks and feels more rugged. It has increased ground clearance, silver roof rails, and rugged bumpers.
On the inside, all variants of the Volkswagen Golf are lined with plush materials and refined interior features. They are spacious and modern, designed for the contemporary driver.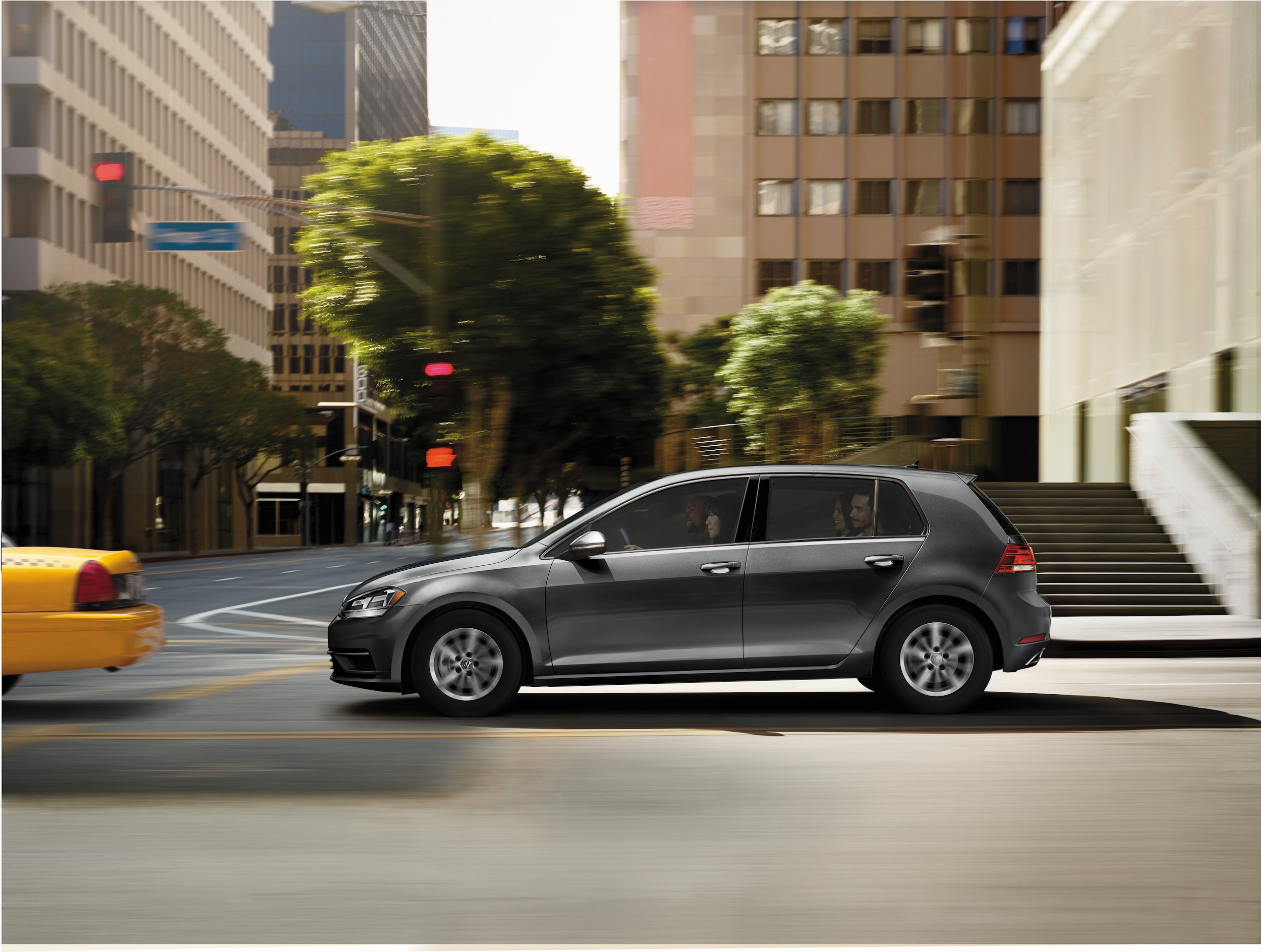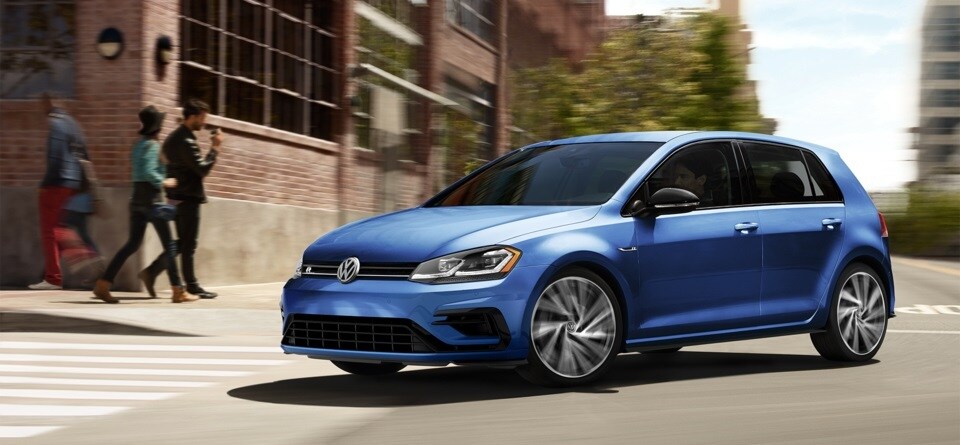 Technology
The Volkswagen Golf features a myriad of tech features. Some of these features enhance the safety of the vehicle, while others increase the comfort and convenience of long journeys. The base Volkswagen Golf features a 6.5-inch infotainment touchscreen that is compatible with both Android Auto™ and Apple CarPlay®. It also features USB and Bluetooth connectivity.
The Golf GTI comes standard with an eight-inch touchscreen with similar connectivity options. It, however, offers a premium audio system, a Wi-Fi hotspot, and additional charging ports.
In terms of safety tech, the Volkswagen Golf features a plethora of sensors and systems that reduce the occurrence of accidents. These include:
Intelligent crash response system
 
Tire pressure monitoring system
 
Automatic post-collision system
Contact Walker Volkswagen to Schedule Your Test Drive Near Gretna, LA
In summary, the Volkswagen Golf is a full-featured, stylish, and elegant vehicle. It manages to do so much with minimal effort. However, the only way to experience this is to test drive it yourself. For more information on the Volkswagen Golf, contact us here at Walker Volkswagen in the Marrero area to speak to a member of our friendly sales staff about buying or leasing a new Golf.
Walker Volkswagen in Metairie
is the only name you need for all things VW in the New Orleans area. We offer a wide selection of new
VW cars and SUVs
as well as many
used
vehicles from a variety of auto brands. We also feature a certified
service center
and
parts department
for genuine VW parts and accessories.
Hours
Monday

9:00AM - 7:00PM

Tuesday

9:00AM - 7:00PM

Wednesday

9:00AM - 7:00PM

Thursday

9:00AM - 7:00PM

Friday

9:00AM - 7:00PM

Saturday

9:00AM - 6:00PM

Sunday

Closed