Enjoy the Best of the Best in the 2020 Volkswagen Tiguan in Metairie
Many drivers Marrero's roads find it difficult to find vehicles that check all of the boxes. Some drivers choose cars that are good on gas mileage and maneuverable but lack space and extra size. Other drivers choose SUVs that offer plenty of interior space for passengers and cargo but lack fuel efficiency, quickness, and maneuverability. Thankfully, drivers everywhere can now get the best of all worlds with the midsize SUV known as the Volkswagen Tiguan.
This stylish and comfortable midsize vehicle blends elements such as maneuverability with the interior size and space to get many tasks done. Whether drivers are looking for options in the performance, safety, technology, or design areas, the new 2020 Volkswagen Tiguan crossover SUV checks all of the boxes. There are many reasons why it's one of the most popular models in our new inventory.
Volkswagen Tiguan Trim Levels
The car making experts at Volkswagen are proud to offer no less than five trim levels for the 2020 Tiguan. No matter what you're interested in, we have the perfect new 2020 Volkswagen Tiguan for you at Walker Volkswagen. These trim levels include:
S
SE
SE R-Line Black
SEL
SEL Premium R-Line
Each of these five trim iterations offers increasingly comfortable and convenient options for drivers in the New Orleans area. That said, regardless of trim level choice, the 2020 Volkswagen Tiguan drivers can count on being treated to the driving experiences of their lives.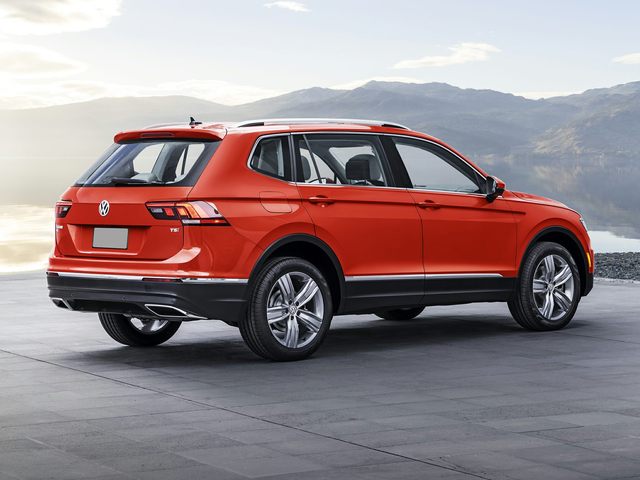 2020 Volkswagen Tiguan Safety Options
The 2020 Volkswagen Tiguan midsize SUV has plenty of options in the safety department. This vehicle's safety system starts with the body itself. The Volkswagen Tiguan features a unique unibody construction with a built-in safety cage. This safety cage includes crumple zones in the front and the rear that absorb and dissipate heavy impacts. This cage also provides stiffness that can protect occupants in the event of rollovers.
If crashes do happen, the experts at Volkswagen make available the proprietary Intelligent Crash Response System. It can do many important things such as shutting off gas flow and electrical systems and alerting the relevant authorities about the situation. Another similar system is the Volkswagen Automatic Post-Collision Braking System. During accidents, drivers may be unable to hit the brakes after impact. The Automatic Post-Collision Braking System can apply the brakes on behalf of drivers after accidents to minimize damages.
This vehicle also helps drivers to maintain awareness with several visual aids. One such aid is the Rear View Camera System, which is sometimes available on Volkswagen Tiguan models in our used inventory. This system displays high-resolution images from the rear of the vehicle onto generously sized internal displays. These displays can help drivers to avoid people and other objects, and make it easier to back up safely. There's even more because the new Volkswagen Tiguan midsize SUV includes up to six stability reinforcing technologies. These technologies range from anti-roll systems to torque vectoring which can make any driver feel like a race car expert.
2020 Volkswagen Tiguan Performance
As a crossover SUV, the new Volkswagen Tiguan includes plenty of power to get things done. It includes a 2.0-liter TSI motor with turbocharged power. The entry-level TSI motor offers healthy performance numbers that include 184 horsepower, 221 pound-feet of torque, and up to 30 mpg of range during highway operation around Westwego. The numbers serve to extend vehicle ranges while providing enough energy to get many personal and work tasks done easily.
The new Tiguan also has an eight-speed transmission system with automatic control. Having 8-gear-ranges gives drivers extra low-end power when they need it but also allows them to reach reasonably high speeds. Plus, the Tiguan also has a special Sport Mode that increases the pep in this vehicle's step.
The Tiguan has other useful modes. These modes include Snow Mode, On-Road Mode, Off-Road mode, and Off-Road Custom. These modes make it clear that the new Tiguan is just as comfortable on unpaved roads as it is on well-paved city streets. Plus, drivers also have the extra protection that comes with the Volkswagen 4Motion all-wheel-drive system. This system can automatically route power to the front or rear wheels as dictated by road conditions.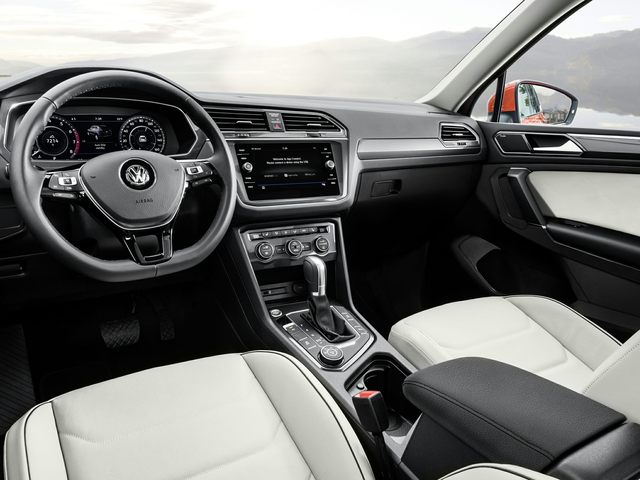 2020 Volkswagen Tiguan Interior and Exterior Designs
The Volkswagen Tiguan is good looking, functional, powerful, and safe. It has many internal and external features that can make travel much more fun for drivers and passengers alike. The Tiguan has plenty of interior space, and it boasts up to 73.5 cubic feet of room for cargo in the five-seat model.
The Tiguan allows drivers the versatility of changing the seating configurations per need. For example, the second-row seats can fold in three different directions, as well as retaining the ability to slide forward or backward. Plus, the Tiguan even allows for the addition of the third row of seats. It makes it easy to access the seat control mechanisms from special release levers located in the back area. This lets drivers maneuver their seats around without having to search front areas for release mechanisms. It also allows drivers to open the liftgate either remotely or hands-free when they're close to the vehicle. This lets passengers and drivers load cargo and personal items without a struggle.
On the exterior front, the new Volkswagen Tiguan is certainly unforgettable for Gretna, LA drivers. It sports LED tail and headlights with adaptive control. These extra bright lights can help drivers to see better during dusk hours as well as allowing people outside of the vehicle to quickly recognize and identify it. Other extra perks include Leatherette seating with specialized material as well as a panoramic sunroof.
2020 Volkswagen Tiguan Technology
The new Volkswagen Tiguan crossover SUV is also a prodigious performer in the technology area. Drivers in this vehicle will find their travel much more comfortable with the Adaptive Cruise Control system in gear. Once drivers get up to speed, they can set their velocity into the computer and watch as the system takes over.
Visit Walker Volkswagen to Learn More
If you'd like to learn more about all the 2020 Volkswagen Tiguan has to offer, we encourage you to visit our dealership today in nearby Metairie. While you're here, you can take this model for a fun test drive, and meet with the professionals at our finance center to discuss leasing and financing. You can also return for years to come for all of your Volkswagen service and parts needs. We look forward to working with you soon!
Hours
Monday

9:00AM - 7:00PM

Tuesday

9:00AM - 7:00PM

Wednesday

9:00AM - 7:00PM

Thursday

9:00AM - 7:00PM

Friday

9:00AM - 7:00PM

Saturday

9:00AM - 6:00PM

Sunday

Closed